About us
Car Junction Thailand the exporter of Pickup Trucks directly from Thailand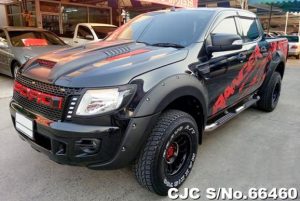 Ford Ranger 2.2 Double Cab, Hi Rider XLT AT 
Car Junction Thailand is subsidiary of Car Junction Co. Ltd. Japan which is a major and prominent auto export companies in Japan. Car Junction Thailand came into being by Car Junction Japan simply to fulfill its client requirement of vehicles like, Toyota Hilux Pickups, Vigo and Revo as they are not available in Japan. These Toyota Hilux Vigo and Revo pickups are ideal vehicles for Off-road use and also good for families, available in variety of models and options.
Toyota Hilux Revo Double Cab 4x4 2.8G AT Rocco
Car Junction Thailand is doing business of exporting off-road pickup trucks to the whole world but the focused market is Africa. In countries like Tanzania and Zambia, the demand of these pickup trucks is very high because of effectiveness of these vehicles to transport light goods inside the city as well as destinations at long distance. We are the most competitive exporter as far as prices are concerned because we are located in the heart of Thailand and deal directly with the sellers and dealers to acquire the vehicles.
Our history
We are determined to offer quality Off-road vehicles to our clients in Africa
The Parent company of Car Junction Thailand Ltd. is experienced in exporting quality Japanese vehicle around the Globe.

Car Junction started its business in Japan in early nineties when only selected companies were engaged in vehicle business. Within no time  Car Junction grew its business in many African countries and started exporting new and used vehicles to almost all East African countries.
Established offices in many African Countries  where Car Junction Carry its stock of vehicles.

Beside exporting vehicles to Tanzania, Zimbabwe, Malawi, Kenya, Uganda, Zambia, Botswana, DRC and other African countries, Car Junction established offices and yards in South Africa, Zimbabwe, Tanzania, Zambia, Uganda and Botswana where Car Junction Carry stock of used and New Japanese vehicles.
Specialize in commercial vehicles and  heavy construction machinery

Beside passenger cars and light transportation vehicles, Car Junction started exporting commercial vehicles and heavy construction machinery. Commercial trucks and public transport vehicles are in demand in African countries and Car Junction very quickly grabed the market with its quality service and timely shipment.
The best reviews
Top reviews of vehicles selling by Car Junction Thailand
Used Toyota Hilux Revo Blue MT 2015 2.4L Diesel for Sale Used Toyota Hilux Revo Blue 4 wheel drive type Manual Double Cabin of the year 2020 2.4L Diesel…

Used Toyota Hilux Vigo Black MT 2011 2.5L Diesel for Sale Used Toyota Hilux Vigo 2 wheel drive type Manual Double Cabin of the year 2011 2.5L Diesel Pickup…

Brand New Ford Ranger Yellow AT 2020 2.0L Diesel for Sale Brand New Ford Ranger Yellow 2 wheel drive type Automatic Double Cabin of the year 2020 2.0L Diesel …