Toyota Hilux 4WD Smart Cab Revo Rocco  Pickup Truck of Manual Transmission
Toyota Hilux Pickups are considered to be a pick-up that is tougher than ever. It is not just a concept, it's a proven fact that pickup trucks manufactured by Toyota Hilux are one of the most durable by all standards. They are one of the most dependable work forces as far as the combination of commercial and personal usage or adventure oriented and family travelling are concerned. The trusted exporter of Thai Pickups, Car Junction offers to sell Toyota Hilux 4WD Smart Cab Revo Rocco  Pickup Truck of Manual Transmission.
Features of 4X4 2.8G Rocco Pickups
4X4 2.8G Rocco has 6 strokes MT Gear Box with iMT having differential lock at rear axle
External Grills are grey and shiny black along with front bumper represents the vehicle color and rear bumper is metallic grey while the ladder is black.
As far as lights and it's accessories are concerned, headlights are consisting of LED projector with automatic control system. High-level headlamps are also automatic.
Side mirrors are black metallic, can be electrically folded and having turn indicators.
Door hand Black metallic
Rubber mud front and back
Front wiper Timer
Interior look is black having black and seat covers are also black. Console panel is Black, metallic and chrome
Air conditioning Black metallic
Door panel Black lining and metallic black bands.
Door Control Panel Black metallic
Steering wheel / decoration material Leather / Metallic Black
Driving Data Display (MID has TFT color display
Rear view mirror are reflective
Power window has clamping system
Remote key, Speed Auto Lock, battery backup system, 5 types of automatic air conditioning, Storage compartment has Cool Box with Hilux Symbol, storage box
Audio system and connection has USB / AUX device connector, FM / AM radio and disc player, touchscreen DVD connecting with Bluetooth, Phone support And playing music, Voice dialing
Loudspeaker are installed at 6 positions and there is a short form antenna
Security : LED Daytime Running Lights, LED Fog light, and also LED 3rd Brake Light, rear view camera, seat belts, SRS Safety Airbag System, Passenger and driver's knees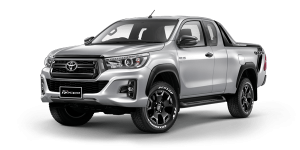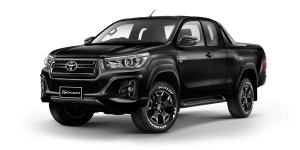 Enquiry Form 
Please fill the below provided form for your inquiries. You can mention the stock number for any particular vehicle of your interest.
[contact-form-7 id="5" title="Contact form 1"]